45 Lời Chúc Tiếng Anh nhân Ngày Phụ Nữ Việt Nam 20/10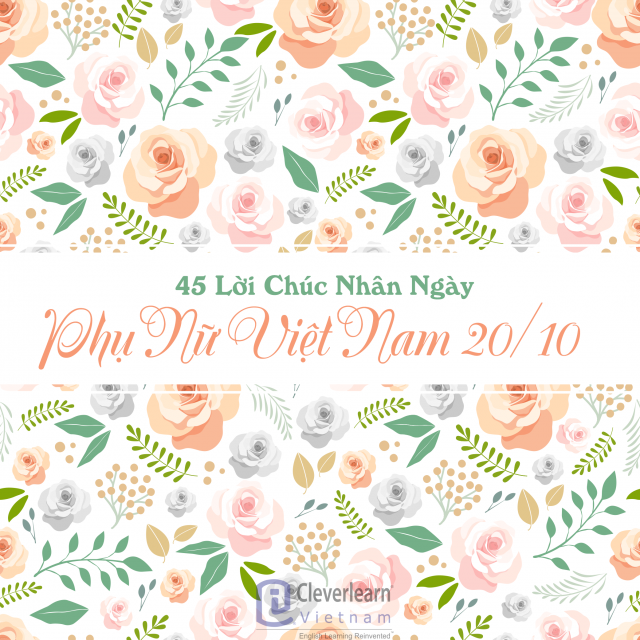 Hôm nay là một ngày đẹp trời, một ngày đặc biệt dành cho tất cả những người phụ nữ Việt Nam. Cleverlearn xin gửi tới một nửa thế giới lời Chúc tốt đẹp nhất , Chúc cho sự hạnh phúc luôn ngập tràn quanh bạn.
♥ Listening carefully, understanding with patience, supporting through thick and thin, caring heart and always being there are synonymous to the word lady to me.
♥ This day belongs to you. May you prosper and stood affirm in the course of life.
♥ Every successful man is backed up by a woman who is always a step at the forefront of him. Salute to the woman of future.
♥ Every little thing done by you matters a lot to me. Thank you!
♥ With the creation of world, you were also added to increase its beauty. The world is mesmerized with the work you done.
♥ Hope your day is sunshine and flowers with happy thoughts to fill the house.
♥ If Roses were black and violets were brown, my love for you would never be found, but roses are red and violets are blue, all I want to say is Happy Vietnamese Women's day to you.
♥ The best medicine in the world is your Hug.
♥ A woman like you is precious and hard to find. Wishing you a day as beautiful as you are!
♥ Be beautiful if you can, be wise if you want to, but to be respected – that is essential! Happy Vietnamese Women's Day
♥ Feel special, unique, on top of the world.Its your day!! Happy Vietnamese Women's Day my girl!
♥ Feel proud, celebrate with joy, and demonstrate your strength. The day is yours.
♥ A beautiful woman is anticipated additional liable for her steps than of less gorgeous woman.
♥ You are the fountain of life. You are a resilient river that travels long distance, carrying everything on her shoulders but finally reaching her destination.
♥ I love you. No matter what we go through, no matter how much we argue because I know, at the end you'll always be there for me.
♥ May be I never confess, but I look for you everywhere in my loneliness.
♥ This life would have meaningless without strong woman. Every circle of life witnesses empowerment, existence and strong influence of women whether as a Mother or wife, as sister or daughter.
♥ You can do the best ever – you are brave, smart, genius and generous. The world belongs to you.
♥ The Little things that you do matter so much to me! You are just AWESOME.
♥ It's you who's making the difference in so many lives – And I am one of them.
♥ All best wishes on International women's day. Keep shining and smiling always!
♥ Behind every successful man is a woman who is getting ahead of him! Three cheers to the woman of tomorrow!
♥ When the world was created, you were also created to beautify it. You have done your work perfectly for all the world is smiling for you today.
♥ A charming woman doesn't follow the crowd. She is herself! Today is yours and so is every other day!
♥ You have faced adversity through resilience. You have disarmed your problems through smile. You have buried your tribulations in your heart. What else can I ask from you – Just enjoy your Day.
♥ Today, remember that all life spring from you. Look at the world and smile that without you, life would have been impossible. Enjoy your day to the fullest.
♥ Thank you for making my life so special by your mere presence. Here's wishing you a very special day and lots of love & happiness.
♥ Just wanted to thank you from bottom of my heart for all things you do! Wishing you a day filled with goodness and warmth.
♥ A woman can make happiness bloom all around them!
♥ The willingness to listen, the patience to understand, the strength to support, the heart to care & just to be there. That is the beauty of a lady!
♥ On this special occasion, celebrate life, do whatever you like to do. After all it's your day.
♥ W-wonderful, O-outstanding, M-marvellous, A-amazing, N-nice! Wishing you a day that's just like you – Really Special!
♥ All your love, all your caring ways, all your giving these years are the reasons why my heart thinks of you on Vietnamese Women's Day! with a wish for happiness and a world full of love.
♥ Every Home, Every Heart, Every Feeling, Every Moment Of happiness is incomplete without you, Only you can complete this world.
♥ Thank you for being there through the tears and laughter.
♥ Despite failures – you stand up. Despite sorrow – you cheer up. Despite the pain – you keep fighting! Keep dreaming to fly higher reaching new heights. Congratulations on October 20!
♥ Thank you for always helping me to remember what is important in life – And today it is you! You are the best!
♥ A beautiful woman draws strength from troubles, smiles during distress and grows stronger with prayers & hope. Send this to a beautiful woman. I just did! Wishing you a happy day!
♥ On the occasion of October 20, I wish you happiness, health, success and prosperity in the years ahead.
♥ I just want you to know how special and fortunate I find myself to be blessed with a woman as loving, caring and wonderful as you.
♥ If God did not create you, it won't be a happy world after all.
♥ You made me what I am when I was nothing. You cried when I cried and smiled when I smiled. You have been a perfect companion for me.
♥ Don't follow the crowd, because you won't go further then crowd. Walk your way alone and you'll find yourself in places no one has ever been before!
♥ Dear Mom, you will always and forever be the first woman I have ever loved this much.
♥ If you could see it from my eyes you would know you are one gem of a Woman!
{Sưu tầm}