(Luyện kỹ năng Đọc) Hoi An – An Ancient Town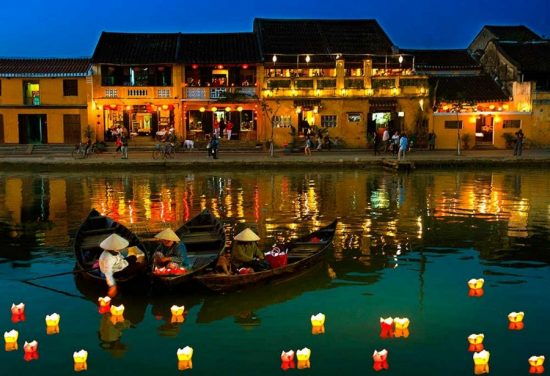 Cùng luyện đọc tin tức bằng Tiếng Anh để rèn luyện thêm kỹ năng đọc – hiểu – dịch.
Come to Da Nang , you must visit Hoi An. Hoi An is a city on the coast of the South China Sea in the South Central Coast of Vietnam . It is located in Quảng Nam province and is home to approximately 120,000 inhabitants (dân cư). The Old Town of Hoi An is listed as a UNESCO World Heritage Site (Di sản thế giới).
Hoi An travel guide (Hướng dẫn du lịch)
The local People's Committee (Ủy ban nhân dân) periodically (định kỳ) clamps down (kiểm soát) on touts (bán hàng rong), and while this doesn't mean a completely hassle-free (không có rắc rối) visit, a stroll down (đi dạo) the street is usually more relaxed here than in Hue or Nha Trang. Hoi An is pedestrian-friendly (thân thiện với người đi bộ): the Old Town is closed to cars and the distances from the hotels to the centre are walkable. It's a great place to hire a bike.
The centre of Hoi An is very small and pedestrianised, so you will be walking around most of the time. Unfortunately, motorbikes have not been banned from the center, so keep an eye out for motorized kamikazes (xe phân khối lớn), even in the most narrow alleys (ngõ hẹp). However, the city's government  (chính quyền) does not allow motorbikes to enter the Old Town on the 14th and 15th of each lunar month (tháng âm lịch). On those evenings, a lot of activities, including traditional games such as "bai choi", "trong quan", and "dap nieu" are held in all over the town.
Traffic in Hoi An is minimal, so if you've been avoiding getting on a bike in the big cities, small towns and the surrounding countryside like Hoi An are ideal to get used to the road rules.
History of Hoi An
The charming (thu hút) old town of Hoi An in central Vietnam, with its lovely wooden shop-homes (nhà/ hàng quán bằng gỗ) and unique bridge, has been recognised as a world cultural heritage site by UNESCO.
Hoi An, historically known as a once prosperous (thịnh vượng) seaport (cảng biển) under the various names of Fayfo, Kaifo, Faifoo, Faixfo, Hoai Pho and Hoi An, is the only place in Vietnam to have many of its original streets and building preserved intact (bảo tồn nguyên vẹn), which are typical of an old seaport town in South East Asia. The town was a crossroad (ngã tư) of economic-cultural flows in Vietnam and Southeast Asia from the end of the 16 th century to the early 19th century. It was also the gate through which Buddism (Phật giáo) and Christianity (Thiên chúa giáo) were introduced into Vietnam in the 17th century. In the process, Hoi An acquired unique cultural characteristics (nét văn hóa) which are manifested (được thể hiện) in its customs (phong tục) until today.The result was that Hội An remained almost untouched by the changes to Vietnam over the next 200 years.
Today, the town is a major tourist attraction because of its traditional architecture (kiến trúc), crafts (đồ thủ công) such as textiles (dệt may) and ceramics (đồ gốm) preserved and visitors are exploited (khai thác). Many bars, hotels, and resorts have been constructed both in Hội An and the surrounding area. The port mouth and boats are still used for both fishing and tourism.
Landmarks of Hoi An
Japanese Covered Bridge

Quan Cong Temple

Museum of Folk Culture

Traditional Theatre

Chinese All-Community Meeting Hall

Hoi An Museum of History and Culture

Museum of Trade Ceramics
Welcome to Hoi An – Vietnam
(Sưu tầm)